The Links on this page are only the tip of the Iceberg
More will be posted in time
As you will see something is seriously wrong.

Jaw'in
This is a "public" on-line carpenter's discussion forum called Jaw'in.
You may post messages anonymously
(unfortunate but necessary under a dictatorship) but please state your local # and city so we know where you talking about.
http://jawin.freehostia.com/index.htm



Exposing the TRUTH about the Carpenter's Union
https://members.tripod.com/unionplainfacts/


Our Brothers North of the Border and home of

http://www.carpentersunionbc.com/enter.html

http://www.uniondemocracy.com/




This site is owned and managed by Ed Kehoe, a Union member, a delegate to the 1997 TWU International convention, a former Shop Steward and a current member of the TWU Local 100 executive board.
"Union leaders in my section had become an extension of management"
http://www.laborinformation.com/
also
http://www.unionism.com/unstf2.html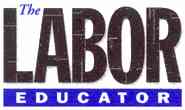 Seek out the Truth and Have the Courage to Defend it
http://www.laboreducator.org/


Some very good Information Here
https://members.tripod.com/jimmcgough/default.htm



Click to subscribe to UBCMEMBERS